Kit Kat Bites was a product of Hershey Foods Corporation (later renamed The Hershey Company in 2005) as part of HFC's Bites lineup. This product, and the entire Bites lineup were all discontinued due to a choking hazard. In 2013, a brand new Kit Kat product, a shortened version of Kit Kat Miniatures nicknamed Kit Kat Minis, replaced the Bites version as that version's successor. In 2013, THC used the word "Bites" again only on Twizzlers Bites and Jolly Rancher Bites.
2001-2003
Edit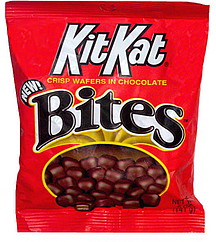 Ad blocker interference detected!
Wikia is a free-to-use site that makes money from advertising. We have a modified experience for viewers using ad blockers

Wikia is not accessible if you've made further modifications. Remove the custom ad blocker rule(s) and the page will load as expected.