2002-2006
Edit
In 2002, the Yoplait Whips! lineup was reformulated with a "light & fluffy" texture. The cup was even redesigned, changing the font for "Whips!" to script.
2006-2012
Edit
The "Whips!" script was facelifted, and "Chocolate Mousse Style" was added for a caption.
2012-2015
Edit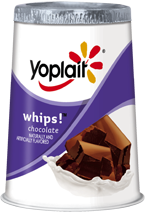 In 2012, all Yoplait cups were redesigned the same way.
2015-2016
Edit
In 2015, the "Whips!" name reverted back script, while the other flavor lineup names remain in print.
2016-present
Edit
To show off their heritage, Yoplait redesigned all their cups, making them look like the cups from when they first started. This redesign also brings back the Yoplait name from the 1986 logo.
In 2017, Yoplait added a limited-time flavor in this lineup, Sea Salt and Chocolate, along with three other flavors (two in the Original lineup and one in the Light lineup).
Ad blocker interference detected!
Wikia is a free-to-use site that makes money from advertising. We have a modified experience for viewers using ad blockers

Wikia is not accessible if you've made further modifications. Remove the custom ad blocker rule(s) and the page will load as expected.